Dear

customer,

In the section SCREWERK TECHNOLOGY we provide relevant information to support well-founded decisions with respect to screwed joints in plastics. To get the best results the boss design for screws for plastic is a key element. We'll illustrate the main characteristics and requirements from an application perspective. In SCREWERK INSIGHTS we share why our our chipboard boxes are a valuable part of our system and how they contribute to the efficiency of our operation.

Best regards,

Your Screwerk Team
Screwerk Technology

Boss Design

The screw and screw boss work together to make the best possible connection. The design of the screw boss is impacted by the exact type of material, available space and practical constraints such as wall thickness variation.

As a starting point in the design process the general rule of thumb is to assume a pilot hole diameter equal to 80% of the thread diameter and a boss outer diameter at 200% with enough space to allow for a minimum of 2 pitches of thread engagement. These values should however be optimized for the exact material, and fill, and typically will lie somewhere between 75-90% for the hole diameter and 180-250% for the boss diameter when optimized.

Empirical hole size and boss diameter values for a number of popular materials are available on our website and you can see them by clicking the button below. In addition, a balance hole is required to allow the material that is pulled up by the screw some space to expand rather than contributing to the build up of radial stress in the boss. The image at the end of this section shows the main characteristics of a typical screw boss.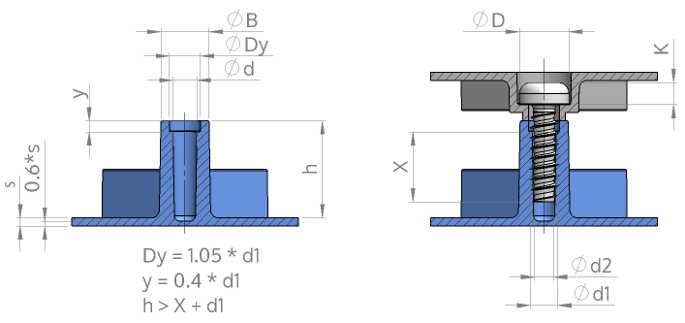 Screwerk Insights

Our boxes for warehousing and shipping

The standard in Screwerk's logistics is the chipboard box. The chipboard used is environmentally friendly, strong, and allows for many re-uses. The material is flame retardant and shields the screws from damage with a wall thickness of 2.2 mm. Even heavy or pointy screws can't puncture this. Above all, the chip board material allows the screws to breathe so that fluctuating temperatures won't result in condensation and rust. This box also allows the screws to be stored safely for a prolonged time at a customers location.

Screwerk uses the same chipboard boxes for warehousing as well shipping, helping to keep our processes lean. With its dimensions of 250x200x125 mm the box is well suited for usage in racks and is stackable for use on pallets. A maximum box weight of 12 kg makes it easy for picking and placing by hand. For deliveries of 1.5 kg and up we use this box type. The high quality chipboard box ensures the availability of your materials, protects them during transport and hopefully can serve the same uses after it arrives at your facilities.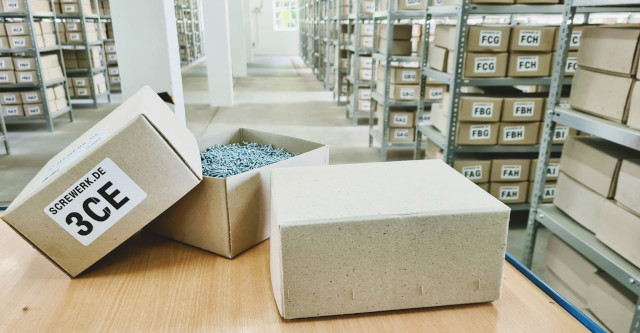 Erik Braam

Languages: English, German, Dutch

Phone: +1 508 309 7531

Mail: info@screwerk.com